HOW TO MEASURE YOUR RING SIZE
As fingers come in all shapes and sizes, so do your rings. When shopping online, it is key to know what your ring size is, therefore you will receive your purchase fitting absolutely perfectly. Not sure what your ring size is? The average woman's ring size is between 5-7, while the average men's size ranges between 8-10-1/2. But, as you may head over to a jeweler to find your size, MOIZART's easy-to-follow at home-methods will help you discover your perfect fit!
OPTION 1:
Measure the inside diameter of a ring
What you need:
-

 

A ruler
-

 

Your existing ring

 

or the ring of the person you are buying for.
Measure the inside diameter of the ring and round up to the nearest mm/inch. The diameter of your ring is the measurement of a straight line from one side to the other. Please check out our Ring Size Guide below to discover your ring size.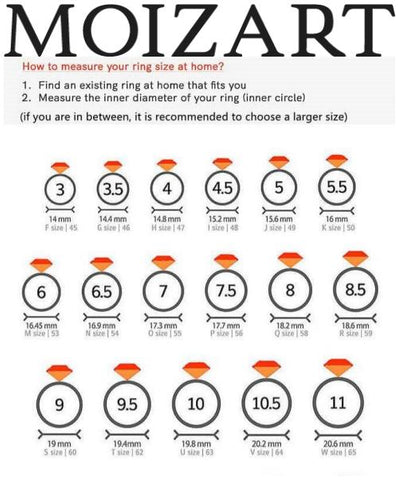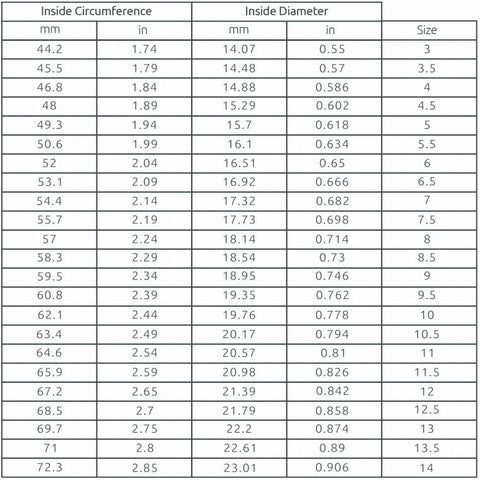 OPTION 2:
Print our Ring Size Finder PDF
If you already have a ring that fits you well at home and would like to find your exact match, print out our PDF Ring Size Finder! Choose a ring that fits you comfortably and not too tight. Place your ring on the size diagrams until you find the correct match and then find your size on the size chart. Please print the size finder on letter paper.