MOISSANITE RING CARE
Can I wear Moissanite ring everyday?
Yes! Moissanite's great hardness makes it an ideal ring to wear everyday! The Moizart moissanite are 9.25 hardness, also the band was made by 925 sterling sliver on gold vermeil. It stands up to wear and tear extremely well, making it a great solitaire ring choice. Also, moissanite's mineral makeup means that it resists oil and dirt better than a diamond.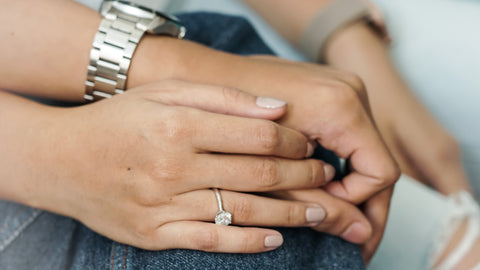 Happy Client on Moizart Solitaire Ring 
What Is Gold Vermeil?
We are dedicated to produce jewelry in precious metal and high-quality material. Gold vermeil is a high-quality, durable, affordable alternative to Solid Gold pieces. Our Gold Vermeil pieces are 18k Gold over 925 Sterling Silver with 5 times more coating than the usual gold plating process. Gold Vermeil is better than regular gold plated, because it would keep the shine 5 times longer than regular gold plated items. Moizart Jewelries are plated with 18k Gold over 925 sterling sliver, ensuring our jewelry are of high quality. 
How to keep Moizart Jewelry In Best Condition?
Moizart Jewelry always stay brilliant if you take good care of them. They are good for every day use, however, please the jewelry keep away from chemicals and cleaning products. If the jewelry get dirty, swipe it with the jewelry cleaning cloth included in the package first. If it is not resolved, then clean with mild soap (no detergent) and water only. When not in use, store in jewelry box for safe keeping.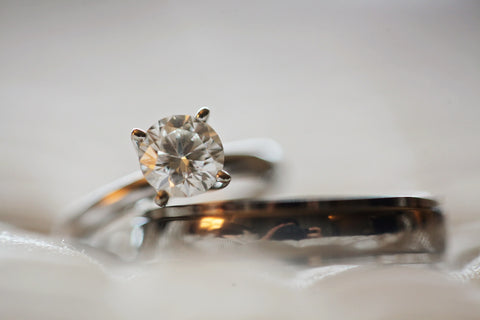 Moizart Ring and band Lying on jewelry cleaning cloth
Does Moissanite Break Easily?
Nope, moissanite resists chipping and breaking better than diamond. Diamond, when struck against something hard, can sheer off in the direction of its crystal growth (this is called "cleaving"). Moissanite, on the other hand, does not break in its crystal direction, as its cleavage in "indistinct". This means that while a moissanite can still be chipped, it is less prone to large breaks than diamond is.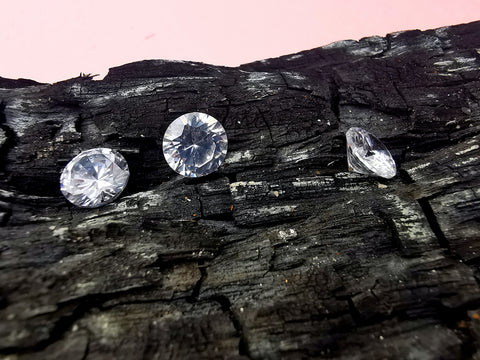 Moizart Moissanite Gems
Can Moissanite Get Scratched?
Yes, but only by the rare things harder than it, like diamonds and certain abrasive cleaners. However, that's about all that can scratch a moissanite! Most other gems and surfaces, such as sapphire or granite, are softer than moissanite and cannot cause scratches. Because moissanite is a 9.25 on the hardness scale, and diamond is a 10, diamond can scratch moissanite.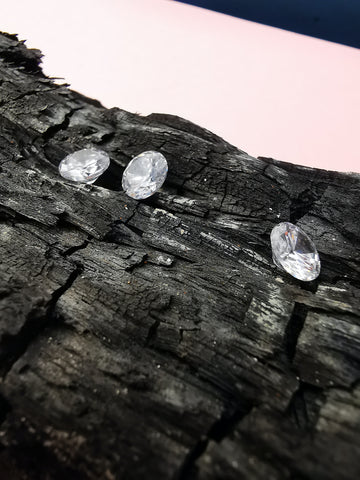 Moizart Moissanite Gems